Order B Bar S Ranch Beef
Ordering FAQ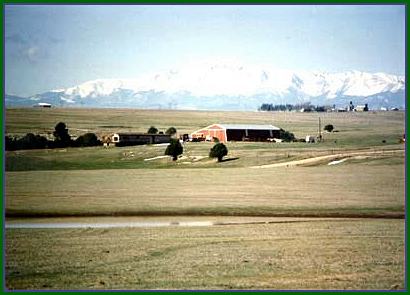 Winter comes to the Elbert County range of B Bar S Ranch.
Answers...
Quantity: How much beef should I order?


The weight varies depending on the hanging weight and how the custom order is processed. The take home weight is roughly 2/3 of the hanging weight.

Delivery: When should I expect to receive my freezer beef?


We will deliver to the packer in early September. It takes about two weeks to age and process your beef from the date it is delivered to the packer.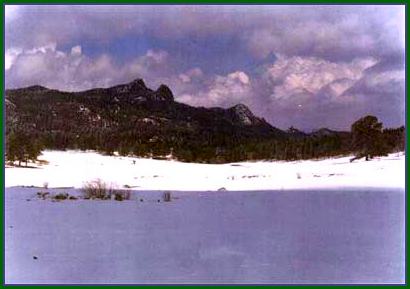 The mountains create winter-blue shadows on the snow-covered pastures of B Bar S Ranch, near Nederland, CO.
Cut to your specifications:


You tell the packer how you want your beef prepared, specify cuts, steak thickness, package size, what to grind, etc. We can help you select the cuts best suited for your needs. We suggest Arapahoe Meat Co., (303) 673-9165.

If you request it, Arapahoe Meat can make excellent beef jerky and a variety of sausages at an additional cost.

You pick up your beef at the packer's when it is ready. It is usually ready approximately 10 days from delivery to the packer.

Cost: How do I figure out what I will pay?

Our price is $5.75/lb. hanging weight: Arapahoe Meat charges $0.99/lb. hanging weight, plus a fixed charge of $32.50/quarter, $65.00/half or $130.00/whole beef. (the packer pricing may change before our delivery date and B Bar S is not responsible for this change in cost)

Example for a half Beef:
250 lbs (hanging weight) X ($5.75 + $0.99) + $65.00 = $1750.00

Packaged weight is about 2/3 of hanging weight, depending on how you have your beef cut, what is ground, etc. Hanging weight will vary with the size of the animal.

Ordering:


To order, complete the form and mail or email it. You will need Acrobat Reader to use the order form.

For more information, or to order by phone, call Denise at 720-560-2863, Marianne at 720-688-8363, or Anne or Grady at 303-648-3758.

Email:
Taking Orders for 2023 Delivery


"Thank you so much for the incredible beef. We've tried a few steaks & burgers it is truly delicious. Thanks again." (Repeat customer)